WHAT ARE YOU WAITING FOR... A BETTER BATTERY?
DISCOVER

LITHIUM BLUE

BATTERIES FOR RECREATIONAL VEHICLES.
LITHIUM BLUE

Premium Series batteries offer BMS controlled safety, long life, lightning-fast charging performance and real-time Bluetooth access to battery State of Charge, voltage, current, temperature status.

LITHIUM BLUE
batteries reflect Discover's Design for Excellence philosophy, incorporating suitcase style carrying handles, terminal protection and field serviceable fuses.
LITHIUM BLUE
batteries are safe, easy to install and parallel for more capacity.


LITHIUM BLUE

have up to two times more useable capacity than the same size lead-acid batteries, increasing the run time possible with all loads.

The purchase of up to ten same sized AGM lead-acid batteries will be needed to match the cycle life of one LITHIUM BLUE battery.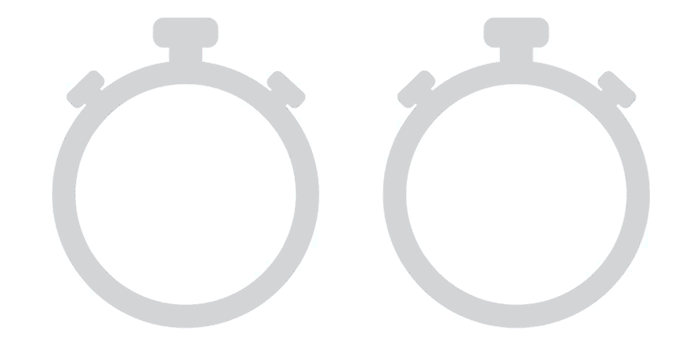 LITHIUM BLUE are up to 50% more efficient and charge up to five times faster than similar sized lead-acid batteries.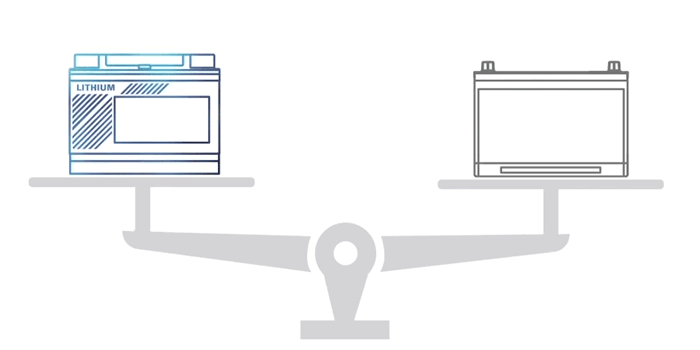 LITHIUM BLUE store more useful energy and are half the weight of similar sized lead-acid batteries.
No. There are no special tools required to install LITHIUM BLUE. They are the same as for installing a deep-cycle lead-acid battery. If you can install a deep-cycle lead-acid battery, you can install LITHIUM BLUE.
Yes. LITHIUM BLUE is made with cobalt and nickel-free LiFePO4 cells that are thermally safe and long-life. LITHIUM BLUE is also IP 67 rated and suitable for applications in humid and wet environments.
It is possible. Charging with an inverter-charger or converter previously set up for charging lead-acid batteries is possible only if the bulk and absorption voltages are reconfigured to be equal to or below the bulk voltage parameters recommended for LITHIUM BLUE batteries. If the inverter-charger or the converter cannot be re-programmed, it must be replaced.
For charging parameters, refer to the LITHIUM BLUE Installation and Owners Manual Table 2-1 DLB ElectricalSpecifications.
Yes. LITHIUM BLUE batteries can connected in parallel for more capacity.
Refer to the LITHIUM BLUE Installation and Owners Manual Section 6.7 Parallel Battery Installation Procedure.
Yes. You can discharge LITHIUM BLUE down to -200C. However, LITHIUM BLUE must only be charged when the battery temperature is 00C or higher.
Not recommended. For the reasons stated below, it is not recommended to use an alternator as a charge source.
Lithium batteries are so efficient at accepting current that the alternator may burn itself out over extended periods of output at or close to peak current.

If the alternator charge voltage exceeds the Lithium battery's charge voltage, the BMS will protect the Lithium battery by disconnecting the battery from the system. Disconnection under load will create a voltage spike, potentially damaging the alternator and any other electrical devices attached to the system.
It is possible. Charging with an alternator is possible; however, a Lithium compatible DC-DC converter must be installed between the alternator and Lithium battery to control current and voltage.
Yes. LITHIUM BLUE was purpose-built to replace 12V, 24V, and 36V groupings of the popular BCI G24 and GC12 sized lead-acid batteries.
| | | |
| --- | --- | --- |
| North America BCI Size | G24 | G12 |
| L x W x H – Inches | 10.3 6.9 x 8.3 | 12.2 x 7.0 x 10.8 |
| International Equivalents | D26, H6, L3 | H7, L4 |
| L x W x H – MM | 262 x 175 x 210 | 312 x 177 x276 |
No. Do not use LITHIUM BLUE to start an engine, doing so will cause irreversible damage.
Additional DC Overcurrent protection is required. The Battery fuse on the LITHIUM BLUE battery is intended to only protect the electronic components of the battery's internal BMS. However, to protect the system and DC battery cables, additional DC overcurrent protection and a DC disconnect switch are required.
Refer to the LITHIUM BLUE Installation and Owners Manual Section 6.4 DC Protection.
This depends on several factors. Battery banks in general need to be sized to power the loads for the desired run time. Lithium batteries also need to be sized to handle the peak current generated by the loads during start-up, such as an inverter and also be able to handle the maximum charge current generated by the charging device(s).
Refer to Section 2.5 Specifications for System Sizing in the LITHIUM BLUE Installation and Owners Manual.
There are requirements for storing any battery so as not to cause damage. Store LITHIUM BLUE at 95% SoC or greater, and within a -10°C to 30°C (-14°F to 86°F) temperature range. After storage, charge the battery to 100% SOC and then perform at least 1 full discharge and charge cycle before returning the battery to service.
Leaving a LITHIUM BLUE battery connected to a trickle load, or to power electronics will cause the battery to be discharged during storage. Without any load, the battery will self-discharge by approximately 3% per month. Storing or leaving the battery at 0% SOC will cause irreversible damage to the battery.
Refer to LITHIUM BLUE Installation and Owners Manual Section 11.0 Storage.
USER-REPLACEABLE FUSE
Field serviceable fuse to protect your investment from

misuse.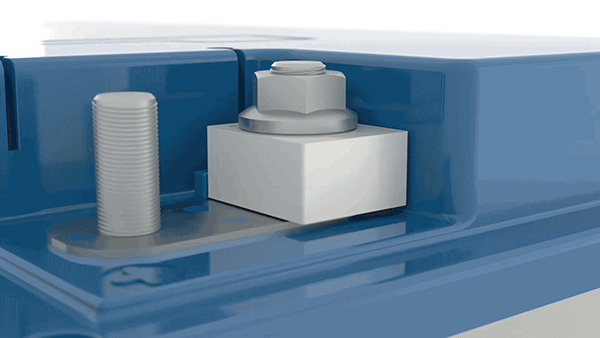 BUILT-IN CARRY HANDLE
Suitcase style handles for easy carrying and installation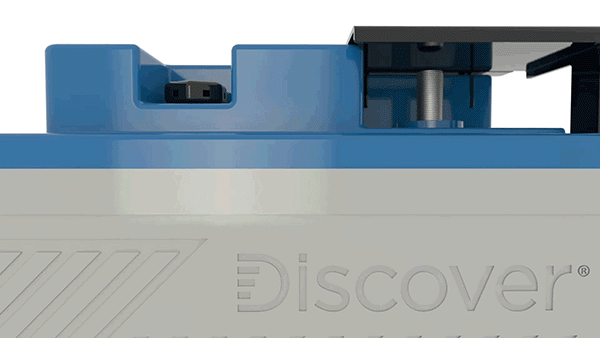 READY TO BUY?


Let us help connect you to a

retailer or online store near you.
LITHIUM BLUE

batteries are available in 12V, 24V, and 36V, and are a drop-in replacement for lead-acid deep cycle batteries in G24 and GC12 footprints.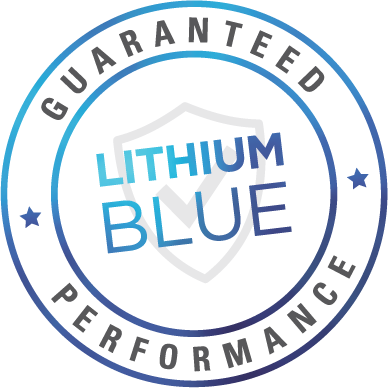 WORKMANSHIP WARRANTY AND PERFORMANCE GUARANTEE
LITHIUM BLUE batteries are backed with up to a 5-year workmanship warranty and an energy throughput performance guarantee. What is Energy Throughput? The sum of all energy charged and discharged through the battery, measured in kWh.
LITHIUM BLUE batteries have a warranty and performance guarantee other lithium batteries don't.
UNDERSTANDING THE DIFFERENCES BETWEEN
LITHIUM BLUE

AND COMPETITIVE PRODUCTS